A homeowner's guide to home finances

If you've recently bought (or are about to buy) a house of your own, congratulations! You've likely achieved a major life goal. As a property owner, however, you will have certain responsibilities when it comes to maintaining your property. From replacing broken appliances to fixing the roof, regular upkeep is a part of every homeowner's life.
Good financial planning will ensure that you have the funds needed to cover the cost of general maintenance and unexpected issues as they arise. You don't want to live with a broken window or a leaky refrigerator because you can't afford the cost of a repair or replacement.
Whatever stage of the homeownership process you're in, basic personal finance best practices will help keep everything under your roof running smoothly. Having a defined budget is important. This article provides money management tips for homeowners, detailing everything from before buying the property to well after you've moved in.
Budgeting for new homeowners
Buying a house is a major investment. In fact, it may be one of the biggest investments you make in your lifetime. As you prepare to take this step, you want to make sure you are on top of all money matters. Keep reading for tips on responsible property buying.
Before you buy
One important part of buying a house is finding your dream property. Maybe you work from home and need your own office, for example, or perhaps you have kids and want to ensure they have a backyard in which to play. Whatever the case may be, your place should suit your style in terms of form and function.
The other important part of buying a house is the financial aspect. You will have to make a lot of money-related decisions as you prepare to purchase a property. Here are some basic points to consider:
Decide how much you can afford. Set a budget and stick to it. While you will likely take out a loan to fund your home purchase, you will still have to put some money down upfront. Do your research online, checking how much properties cost in your target neighborhood. This will give you an idea of what the market is like and allow you to align your expectations with what's financially reasonable.
Start saving. Automate payments to move money directly from your checking bank account to a savings account. How much should you save? Typically, the standard down payment is 20% of the total home value. However, small down payments have become more accepted. If you have good credit, you may be able to make a down payment as low as 3%.
Improve your credit. Before you start applying for loans, get your credit in order. You can get one free credit report per year via AnnualCreditReport.com. Check your score and look for ways to boost it. First, dispute any errors on your credit report (mistakes happen). Going forward, pay all of your bills on time and keep your credit card balances low. Finally, keep your current credit cards open (closing them can decrease your score).
Compare mortgage rates and fees. With your financial profile in order, you can start exploring mortgage options. Government loans are available by the Federal Housing Administration (FHA), United States Department of Agriculture (USDA) and U.S. Department of Veterans Affairs (VA). If you aren't eligible for these, check out conventional mortgages from private lenders. Compare interest rates, origination fees and the opportunity to buy discount points for lower interest rates.
Understand the costs that go into owning a home. Finally, set aside some money for move-in expenses. You'll want some cash on hand to make immediate home repairs and upgrades, such as refurbishing appliances. Of course, you should pay for a professional third-party home inspection before you buy any property. Read on for more details on home inspections in the next section.
When you're ready to buy
You've found the right property. It fits your expectations in terms of style and practicality. It's in your desired neighborhood. And, just as importantly, it's within your budget. Great! What's next? Before you close the deal, there are still a few hoops to jump through. Follow these steps to ensure a fiscally responsible home-buying process:
Take a closer look at insurance and property taxes. The down payment is just one financial consideration when purchasing your property. You will need to insure the home and pay property taxes on it going forward. These expenses are usually based on factors like the home's value and location; make sure you can afford them.
Pay for a home inspection. This is another expense to budget for when buying a home. In a home inspection, a neutral third party goes through the house from top to bottom and compiles a report about the property's state. A home inspection can reveal issues like a leaky roof, faulty foundation or pest infestation. Some issues that come up may be minor. Others may be big enough to make you walk away from the sale.
Negotiate with the seller. You can negotiate with the seller to bring down the price of the property. You might:

Use the results of the home inspection as a bargaining chip. For example, if repairs are needed, you can have the cost of those repairs knocked off the home price so you'll have the money needed to pay for them after moving.
Ask the seller to help pay for closing costs. These are the expenses and fees you'll have to pay to finalize your mortgage. They typically range from 2% to 5% of the loan amount.
Ask the seller to include a home warranty at the time of closing. A home warranty can help cover the costs of repairing or replacing major home systems and appliances. Depending on the policy, it can help protect plumbing and electrical systems, heating and cooling systems (e.g., your water boiler) and appliances like the washer, dryer, oven, range, garbage disposal and more.
5 tips for managing your home finances
You found the home, took all the steps to protect yourself financially and closed the deal. It's time to celebrate. You're officially a homeowner. However, you still need to maintain responsible money management moving forward. A budget will help you stay on top of your finances while maintaining a comfortable home. Read on for more details on how to develop a personalized financial plan.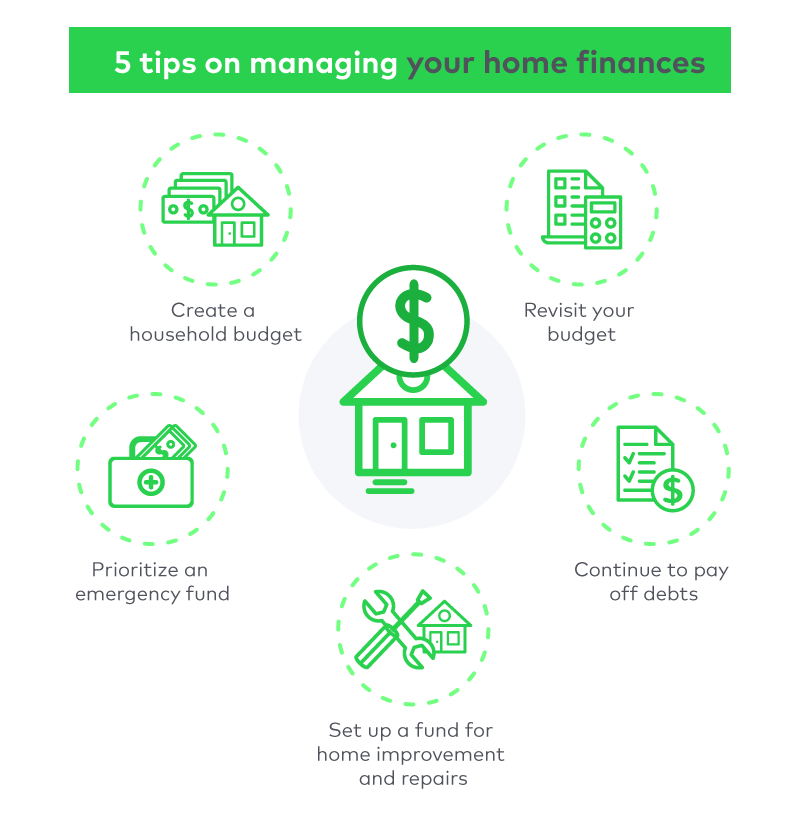 Create a household budget
Sit down and write out a monthly budget for your new home. You can create a simple Excel spreadsheet on your computer. It should have two main points: income and expenses. Start with income, listing all the sources of money that come into your household every month (e.g., salary, spousal support, rental income or investments).
Then, write down your expenses. Categorize expenses into needs versus wants. A need might be your child's school tuition. A want might be your Netflix subscription. Also, include a category for household expenses detailing everything you need. Your household budget might include the following:
Mortgage
Home insurance
Groceries
Utility bills
Homeowners association fees
Total your income and expenses and subtract the total expenses from your total income. That's your "extra" money. You can put it toward entertainment or you can put it toward savings or investments (more on that below).
If your total expenses exceed your income, you're overspending. You'll have to revise your spending habits or risk getting into debt. One option is to follow the 50/30/20 rule. According to this model, 50% of your income should go toward needs (e.g., food), 30% toward wants (e.g., travel) and 20% toward savings and debt payments.
Prioritize an emergency fund
Ideally, you will have some money left over after you've budgeted for all of your expenses. While it may be tempting to blow it on a big trip or luxury purchase, this isn't necessarily the smartest move for a new homeowner. Instead, set up an emergency fund. This is the 9-1-1 pot of cash you can reach into in case of unexpected costs for repairs.
As a homeowner, it's smart to have an emergency fund equal to 1% of your home's value every year. If an urgent issue arises (e.g., your furnace breaks in winter), you'll have the liquid cash flow to pay for it. You won't have to resort to overdrafting your checking account or using a credit card that racks up debts. Overdrafts and credit use also incur costly interest.
Set up an emergency fund separate from your checking account. You may want to consider automated savings to divert a minimum payment to your emergency fund every month. This will slowly grow the account balance. Automated payments are a great way to promote smart money management with minimum stress and hassle.
Set up a fund for home improvement and repairs
In addition to an emergency fund for unexpected expenses, you should also set up a fund for home improvements and repairs. This fund is for the regular maintenance that ensures your home looks and functions optimally. It might include things like painting the siding, gutter cleaning and fixing insulation.
Basically, these are things that won't make your house liveable versus unlivable (unlike an emergency furnace repair, as described above). However, they are still important to maintaining your home. Allowing your property to fall into a state of disrepair can result in more significant damages and detract from its resale value.
Take gutter cleaning, for example. When gutters are clogged with leaves, water can't siphon through the downspout to the ground. Instead, it will run over the sides of the gutters and down the house, which can cause the paint on the siding to peel. Further, water pooling at the base of the house can cause soil erosion, attract mold and possibly damage the foundation.
In this case, paying a small sum for gutter cleaning every spring is clearly a smart financial decision, not only for the short term but also for the long term. If you have your home improvement fund set up, you won't think twice about paying the money needed for such a task. However, if you have to pay out of your own pocket, you might be inclined to skip it.
Continue to pay off debts
As mentioned above, the 50/30/20 rule includes 20% toward savings and debt payments. It's important to keep paying down debts, which may otherwise drag down your credit score. You still want to maintain a good credit score to reach other financial goals, like getting an auto loan or education loan.
Also, endless debts can interfere with other life dreams. For example, you probably want to set up a retirement account with retirement savings for later in life. If all of your 20% allotment is going toward debt repayment, you won't be able to save money for that. Continue to pay off debts — like the mortgage on your home — so you can move on to pursue other dreams.
Revisit your budget
Revisit your budget regularly — at least once per year. Your financial situation will change with time, and your budget should reflect this. Further, regularly revisiting your budget allows you to double-check that you are actually sticking to it. You can track your income and expenses and see if there are areas where you might still be able to cut costs.
Protect your investment with a home warranty from Cinch
Your home is a point of pride — as it should be. You've invested time, energy and money into your property. You want to protect it accordingly. A home protection plan from Cinch Home Services can help. A comprehensive policy will help cover the cost of repairs to major household systems and appliances, ensuring you can afford a prompt fix.
Whether your air conditioning breaks down in mid-summer or your washer needs repairs, getting these issues resolved quickly will ensure your comfort (and your family members' comfort) at home. With a Cinch home warranty, you can have a vetted service professional from your area sent by to fix the issue quickly.
Your home warranty will save you money and bring you valuable peace of mind. Discover Cinch's home warranties today.