Best home warranty in New York

A home warranty plan can be beneficial to homeowners. This investment helps offset the cost of an unexpected breakdown of a major system or big-ticket home appliance, such as the air conditioning and heating system, garbage disposal, electrical system, microwave, trash compactor or free-standing ice maker.
With all the home warranty companies to choose from, selecting the right home warranty provider and coverage options to protect your investment can feel overwhelming. This article covers what you need to know to get the best home warranty in New York and how to determine the right service options to suit your needs.
Why opt for a home warranty in New York?
A home warranty can help keep more money in your wallet by protecting your budget in case of unexpected breakdowns. For instance, New Yorkers sometimes deal with extremely harsh winters and hot summers. Cinch Home Services is here to help your home with the normal wear and tear from challenging climates.
With a Cinch Appliances Plan, Built-in Systems Plan or Complete Home Plan, homeowners can get coverage for many of the built-in systems and major appliances they rely on every day, such as the air conditioner, refrigerator, dishwasher and toilet. If an unexpected breakdown happens, you can get your home up and running with timely service from our national network of pre-screened service professionals.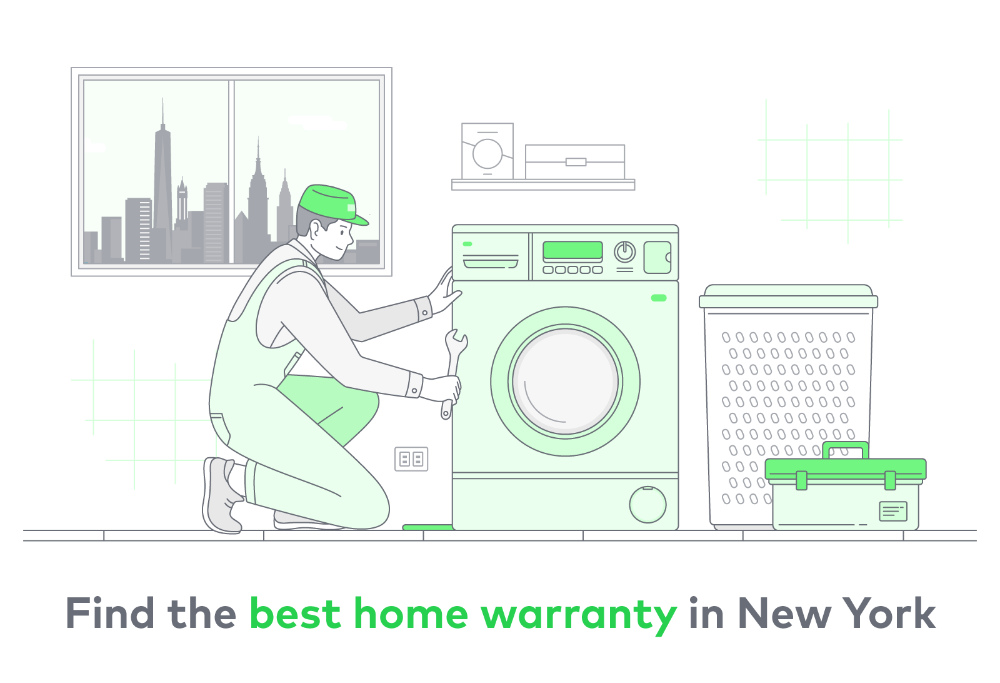 How to find the best home warranty in New York
The best home warranty in the New York area provides the coverage you need at a price point that works with your budget. That said, a home protection plan that works for one household might not be right for another. It's important to think about your individual needs when choosing the best home warranty for your home.
When shopping for a home warranty, consider the following questions:
How many home systems need coverage?
Which appliances are covered under different plans?
What weather conditions do you frequently experience?
How many individuals use major appliances and built-in systems in your home?
What is the overall pricing for the various service contracts?
Answers to these questions can help you determine the right coverage plan for your home.
As said, local weather can factor into your decision. For instance, New York City and Brooklyn typically experience hot, humid summers, and Buffalo sees some brutally cold winters. Homebuyers and owners might want to add coverage for their HVAC system to stay comfortable year-round.
Stay toasty in the winter and cool in the summer with the right home protection plan.
Cinch home warranty plan options
Cinch offers several affordable home protection options to meet your needs. Choose from the Appliances, Built-in Systems or Complete Home plan to help offset the cost of home-system and appliance breakdowns.
The best part is that every plan provides coverage for unknown pre-existing conditions and rust and corrosion.
Appliances plan
Household appliances bring convenience to our everyday lives, so it can add stress and headaches when one breaks down.
Fortunately, the Appliances plan from Cinch can help ease the stress of appliance breakdowns due to normal wear and tear. The Cinch Appliances plan covers the repair and replacement of many major home appliances, including:
Clothes dryers
Clothes washers
Cooktops
Dishwashers
Freestanding ice makers
Food centers (built-in)
Microwaves (built-in)
Ranges
Range exhaust hoods
Refrigerators
Trash compactors (built-in)
Wall ovens
Built-in Systems plan
Most of us give little thought to the various built-in systems in the home until they stop working. From your water heater to your ceiling fans, a home's major systems are designed to bring comfort. It can quickly get expensive when one fails.
That's why Cinch provides coverage to keep home systems in optimal condition. The Built-in Systems plan includes:
Air conditioning including ductwork
Attic fans
Ceiling fans
Central vacuums
Doorbells
Garage door openers
Garbage disposals
Heating system including ductwork
Plumbing system components, like toilets, sump pump, water heaters and built-in jetted tubs
Smoke detectors
Complete Home plan
For a comprehensive coverage plan of built-in home systems and major appliances, Cinch's Complete Home plan supplies the best of both worlds and may qualify you for a homeowners insurance deductible reimbursement. This combo plan includes all the covered items in the Appliances and Built-in Systems plans and offers the greatest value.
How home warranties work in New York
When a covered major appliance or built-in home system stops functioning as it should, Cinch makes it easy to get timely service. Just make an online request through your online account or speak to a friendly customer service representative 24/7. You'll pay a preset deductible or service-call fee at the time of the service request.
Cinch will locate the right local service provider to diagnose and remedy the issue, whether through repair or replacement.
Discover the best New York home warranty options from Cinch Home Services
See which Cinch home protection plan meets your needs for the best home warranty coverage. With a Cinch protection plan, you can protect your budget and your home's appliances and major systems. Each option comes with award-winning service and includes a 180-day workmanship guarantee on covered repairs. Get your free instant quote today.
New York home warranty FAQ
You likely have some questions now that you're more familiar with home warranty plans. We've included some of the most frequently asked questions and answers for New York homeowners.
What is the difference between a home warranty and home insurance?
A home warranty is a service plan the homeowner voluntarily purchases; it's a separate plan that helps safeguard major household appliances and built-in systems that can break down from daily use and normal wear and tear.
On the other hand, a home insurance policy covers personal belongings, the structure of the home, and the replacement cost of a home in the event of a disaster, such as damage from a fire, hurricane or flood. Although New York doesn't require home insurance, mortgage companies often require it to purchase a home.
Both provide valuable coverage for homeowners. While a home insurance policy offers added security and benefits for homeowners, it doesn't always cover the costs of repairing or replacing major appliances and built-in home systems. Home warranty plans can pick up where home insurance plans stop.
How much do home warranties cost in New York?
Home warranty costs vary depending on the coverage. Some homeowners may need a basic plan, whereas others may want a more comprehensive plan that includes additional coverage for multiple home systems, such as larger homes with more than one AC unit or homes with a septic tank or well pump.
Factor in the deductible for service calls when determining costs. Homeowners who choose a higher premium per month can pay a lower deductible at the time of the service call. This can be an attractive offer for some homeowners. With Cinch, you can choose from flexible deductible options to help make home system and appliance repair or replacement more affordable.
What does a home warranty cover?
Home warranty coverage is highly individual and largely depends on the plan level. Several factors can influence which plan is best for your situation, such as the size of your home and if you enjoy DIY projects around the house.
With flexible options from Cinch, you can choose a plan that covers the cost of repair or replacement of covered major home appliances, built-in home systems or both. With options like these, you can better plan for the unexpected. Get peace of mind knowing many of your major home appliances and built-in systems have the added protection of a home warranty plan.