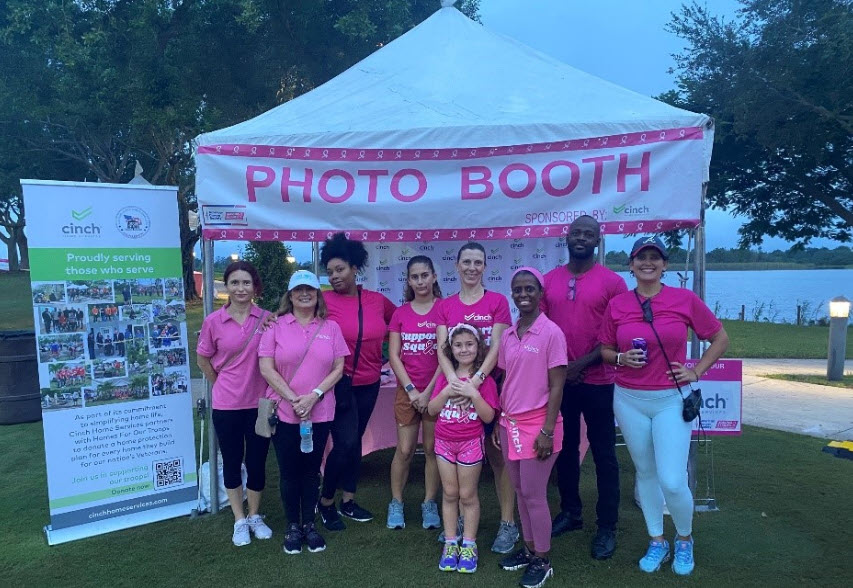 Boca Raton, FL (October. 18, 2023) – Cinch Home Services, one of the nation's leading providers of home service solutions, recently sponsored the Palm Beach County Making Strides Against Breast Cancer walk. The event, hosted by the American Cancer Society on October 14, brought together local community members, businesses, and leadership to join the nation's largest and most impactful breast cancer awareness movement.
The annual event brings together local participants for three- to five-mile noncompetitive walks, as a showcase of community support for courageous breast cancer survivors, individuals living with metastatic breast cancer, caregivers and families. Cinch Home Services joined forces with fellow sponsors and 160 teams of walkers to contribute to this noble cause. The Cinch team raised more than $7,000, and the event achieved a remarkable $286,244 in funds, just shy of its collective fundraising goal of $350,000. Donations are still being accepted through December. These funds are instrumental in advancing critical breast cancer research, providing essential support to patients and advocating for change through the Making Strides Against Breast Cancer initiative.
"Cinch is proud to support the Making Strides Against Breast Cancer walk of Palm Beach County," said Steve Upshaw, Cinch CEO. "Our company is always looking for new ways to positively impact the communities where our associates live and work. We are honored to contribute to the American Cancer Society's mission and help to advance such impactful research."
Lindsay Bennett, Senior Development Manager at the American Cancer Society in Palm Beach County, emphasized the importance of sponsors like Cinch Home Services, noting, "The support from our dedicated sponsors like Cinch Home Services is critical to our ongoing fight against breast cancer. These funds will empower us to make important strides in research, support and prevention. We're immensely grateful for Cinch's unwavering commitment." To donate to the Cinch team supporting Making Strides Against Breast Cancer of Palm Beach County or learn more about the American Cancer Society, visit Team Cinch Home Services. For more information about Cinch and its community partnerships, visit https://www.cinchhomeservices.com/about-cinch/community.
About Cinch Home Services
Cinch Home Services is an award-winning, leading provider of home protection plans with more than 45 years of experience. Their solutions help customers cover the cost when appliances and essential home systems including, HVAC, plumbing, electrical and more break down from everyday use. All covered repairs are backed by an industry-leading 180-day workmanship guarantee. Plans can be purchased directly or through select affinity partners including financial, insurance, retail, utility and real estate. Cinch works with a nationwide network of vetted service providers to help homeowners when they need it the most. Cinch Home Services, a member company of The Cross Country Group, is headquartered in Boca Raton, FL. To learn more, visit cinchhomeservices.com or the company's Facebook, Instagram, LinkedIn and YouTube.
Related Links: Cinchhomeservices.com