A homeowner's guide to kitchens

Kitchens often serve as the center points of our homes. We gather to cook and enjoy food together in the kitchen and dining room. They're a place for us to socialize with guests and appreciate each other's company, such as gathering for brunch. Because of how important a home kitchen is, its design, accessibility and everything else that makes up the space can impact the overall home.
Kitchen remodels are one of the most common home renovations. Fortunately, there are numerous creative ideas to help homeowners create the kitchen they want. This article will walk you through the important components of your kitchen and considerations to keep in mind as you plan to remodel your cooking space.
The benefits of remodeling your kitchen
With the amount of time spent in the kitchen, it's no wonder you want to make sure the space works well for you. A poor kitchen design can make even basic tasks, such as cooking and storing food items, a hassle. Most of us are also heavily dependent on our kitchen appliances, such as the stove and dishwasher. When appliances break down or start having issues, it can have a dramatic impact on day-to-day life. By remodeling your kitchen, you can help maintain the quality of your life.
Many homeowners also appreciate that a kitchen remodel can increase the value of their homes. Even a minor kitchen remodel can help recuperate expenses by up to 77.6% when it comes time to sell the property. This makes it an attractive remodeling option. Below, we explore some important factors to consider as you plan your renovation.
The most popular kitchen layouts
The kitchen layout you select for your remodel will impact everything else about your space. It will dictate the type and arrangement of cabinets, counters and the placement of appliances, so this is a decision you want to carefully make.
We'll walk you through some of the most popular and functional kitchen design layouts.
Galley kitchens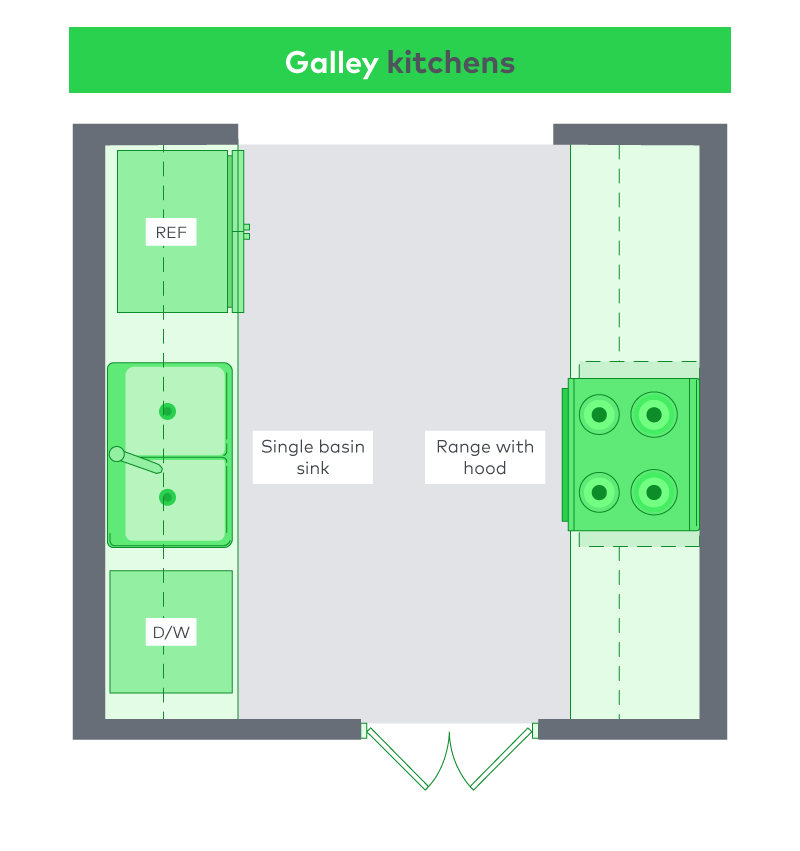 A galley kitchen, also referred to as a corridor kitchen, provides efficient use of space, particularly for anyone with a more narrow area. This design focuses on creating a kitchen that feels more like a hallway. The idea is to have everything within reach to make cooking efficient. It mimics some of the effectiveness seen in professional kitchens.
This design often involves cabinets and counter space along two walls. However, if you have an open floor plan or larger kitchen, you can help capture the same effect using an island to serve as the other wall of the galley kitchen.
If you find yourself regularly cooking and prefer convenience over extras, like having space to socialize in the kitchen, this design can work well. On the other hand, if you order takeout frequently and may not utilize your kitchen as much, a galley kitchen may not be the right choice.
L-shaped kitchens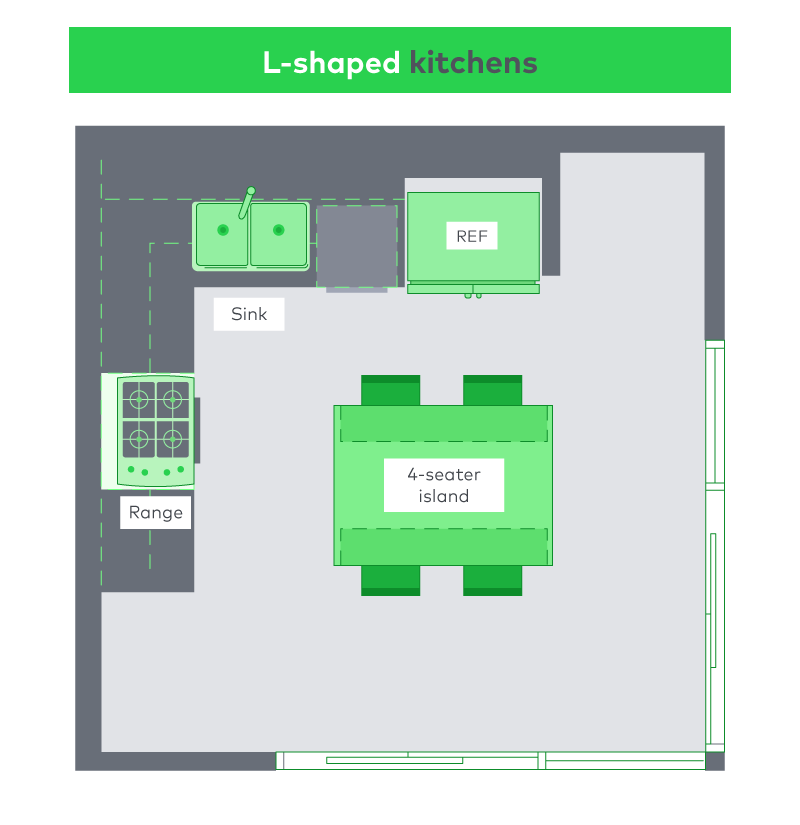 For homes with a kitchen more toward the side of the house — bordered by two perpendicular walls — an L-shaped kitchen design can be a good fit. This kitchen design uses two main walls of the kitchen to create an L-shape. This design can work well with an open-concept design, as it allows the kitchen prep to be to the side and out of the way of other household activities.
At the same time, people in the kitchen don't have to miss out on anything else going on in other areas, such as the living room. If you enjoy socializing while preparing food, you will find that this design allows you to enjoy both at the same time.
Single-wall kitchens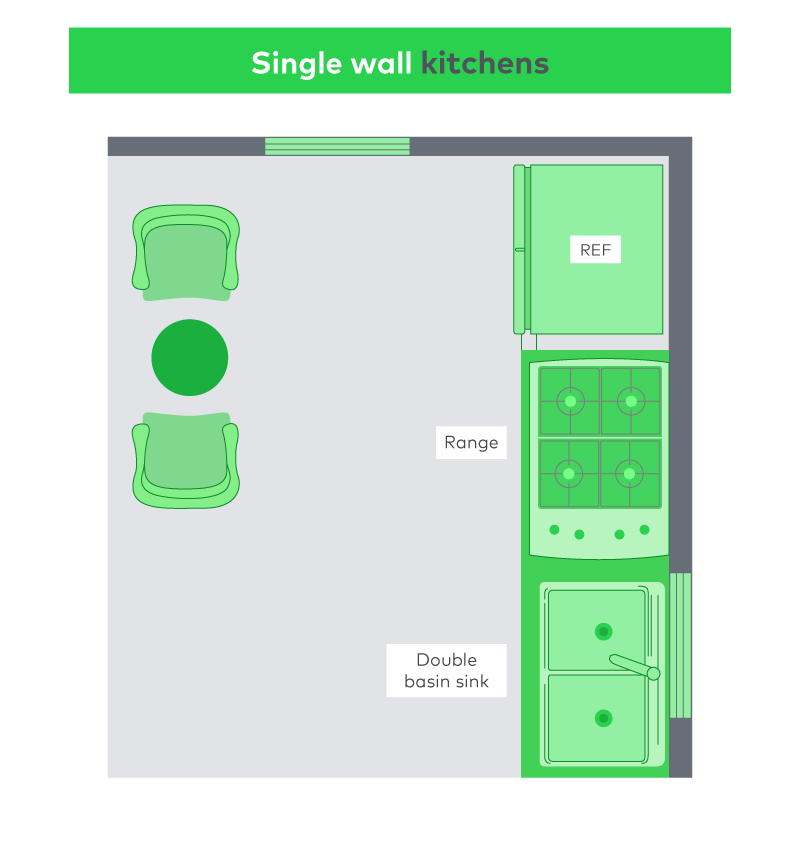 Single-wall kitchens are the ultimate space saver. If you don't have a lot of room in your living space for a kitchen design, this type of kitchen can serve well. With this design, all parts of the kitchen, including the countertops and appliances, are arranged along a single wall. This frees up the rest of the space for other uses, such as a dining area or a place to socialize.
Since everything must fit along a single wall, if you need a lot of countertop space or cabinet storage, you may find this type of kitchen isn't the best fit. If you want to minimize your kitchen, however, you'll appreciate its potential.
U-shaped kitchens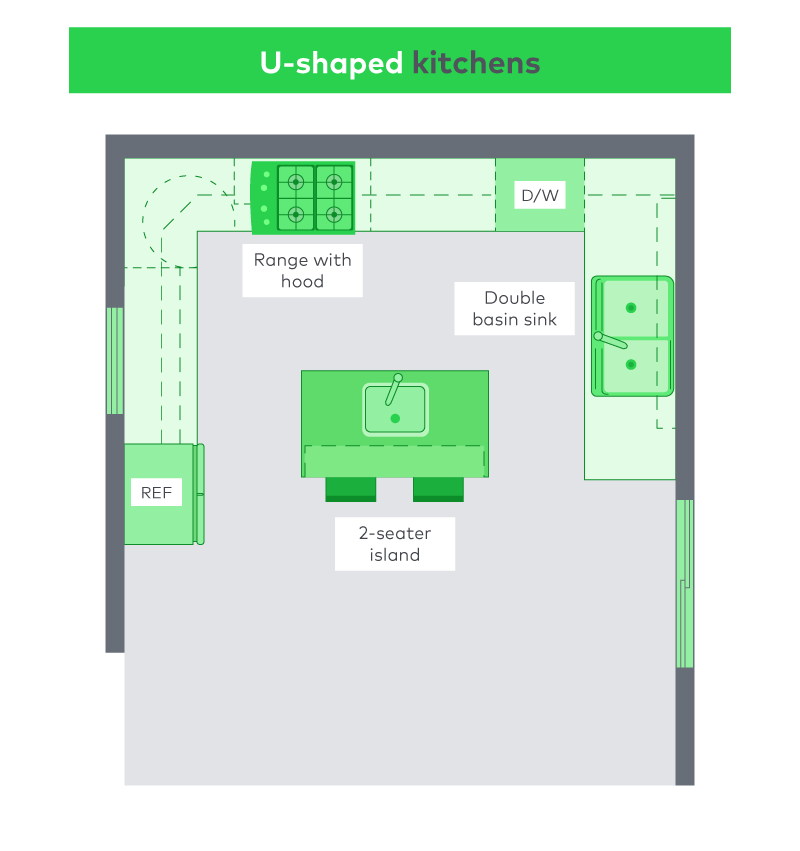 The U-shaped kitchen is a kind of adaptation of the galley kitchen. If you take a galley kitchen and close off one end to use for additional kitchen storage, you'll have a U-shaped kitchen design. If you enjoy cooking, this setup can work well. By using three walls to contain the kitchen, it helps maximize your countertop space and cabinet storage, particularly in a small space.
However, like the galley kitchen, this design doesn't offer as much opportunity for socializing or participating in what goes on in the rest of the house. These kitchens operate in a more closed-off manner compared to the rest of the home.
Choosing a kitchen color scheme
Once you select a kitchen layout, the next step involves choosing a color scheme. In a kitchen, the color scheme you select will impact several features and fixtures throughout the space. You'll need to consider the color you want for the walls but also how it will match with the color of your countertops, cabinets, the flooring and even your appliances.
You'll want to think about the kitchen in holistic terms. You need to consider how different components of the kitchen will fit together from a color perspective. Consider different color combinations so that the space is color-coordinated.
Calm colors for the walls
Some homeowners prefer calm colors for the kitchen walls. If you decide to go this route, consider using ivory, grays and similar shades of white. These colors also allow for greater experimentation in the colors of the cabinets, and some people opt to pair it with bolder colors, such as blues, reds or yellows. The white-toned walls will also pair nicely with more traditional cabinet colors, such as brown.
Bold colors for the walls
There are a few brighter colors that can work well on kitchen walls, namely greens and yellows. These colors often pair nicely with lighter cabinet selections and countertops.
Bold accents
If you want to add a bit of personality or sophistication to the kitchen space, accents can provide the perfect opportunity. Use reds, blues or greens in accents around the kitchen, such as part of the backsplash or in the cabinetry.
What to consider for kitchen flooring
When it comes time to select the right flooring for your kitchen, you have a few factors to consider. The kitchen will likely be a place of heavy traffic. This means you'll want something that will hold up well and continue to serve you for years to come. It also needs to withstand the natural wear and tear of kitchen usage, such as things spilling on it or items getting dropped.
Below are the different types of flooring to consider.
Tile floors
Tile floors have outstanding durability and can be easily cleaned, which makes them an appealing option for many. They also come in a variety of colors and designs, which can help them fit well with different color themes. However, tile floors can get cold, particularly in the winter months, and slippery when wet.
Wood floors
Hardwood offers visual appeal, which makes it a popular choice for a kitchen redesign. Wood floors can also be stained and come in several types of wood, helping this flooring option coordinate with nearly any color theme. However, it's important to remember that this type of floor can get scratched and may damage more easily than other types of flooring.
Laminate flooring
Laminate flooring offers an excellent price for many homeowners. You might also be able to do the installation yourself. These floors are also very scratch-resistant, which can help them stand up to regular kitchen use. However, laminate can start to warp with moisture and may require special cleaning products and upkeep to keep them looking nice.
Vinyl flooring
Vinyl flooring has come a long way. Today, these floors can easily mimic stone and wood floors, which can make them an affordable and durable alternative. While these floors can get marked up from furniture, they are more moisture-resistant than laminate.
Kitchen cabinet selection
For many homeowners, selecting the right kitchen cabinets might be one of the most important parts of the kitchen remodel. The cabinets are a particularly visible part of the kitchen.
Fortunately, they can be customized to your needs. For example, if you enjoy going outside to BBQ, you might appreciate having extra storage for that equipment right by the door. If you have specialty kitchen items, such as a Dutch oven, slow cooker, pressure cooker, ice cream maker or air fryer, you might also want to consider where to place these items. You'll also want an area to easily store your cutlery, cups and wine glasses, and dinnerware sets.
Therefore, make sure that you make a cabinet selection that fits well with the design you have in mind.
Considerations for new cabinets
New cabinets can be a good solution for many homeowners. Depending on the condition of the old cabinets, you may need to replace them. You may also opt for new cabinets to go along with the rest of the remodel to make the entire space fresh.
If you are going to outfit your kitchen with new cabinets, keep a few criteria in mind:
Make sure the cabinet colors work well with the rest of the color scheme.
Think about where you'll likely want to store various items and where cabinets make the most sense.
Cabinets come in many styles. Consider what fits best with your personality and space.
Think about the unique features you want. For example, some cabinets also come with glass doors or light fixtures.
Refurbishing old cabinets
While remodeling your kitchen, you may decide that refurbishing your existing cabinets can accomplish your goals while staying within your budget. Some ways you can refurbish your old cabinets include:
Buying new doors. Keeping the main cabinet and simply replacing the doors can work well and change the entire look for a fraction of the price.
Repainting the doors. You might elect to simply repaint the doors to match the new theme.
Outfitting the cabinets with new extras. Cabinets can also be spruced up by adding new features, such as fresh trim, new handles or including light features.
Kitchen countertops: Where the work is done!
The kitchen countertop is where you'll do your food preparation. It might also be where you keep some appliances and tools, like your toaster or cutting board. As your kitchen countertops will see a high amount of use, it's important to consider your options.
Stone countertops
Stone countertops can include granite, quartz, soapstone and marble. These four options tend to be more expensive choices, but they look stunning and can be very attractive to home buyers.
Quartz and granite also tend to offer a higher degree of durability than marble and soapstone, which scratch more easily. Depending on the stone, you may also need to seal the countertop regularly to make sure it's protected from staining.
Tile countertops
Tile countertops appeal to many because of their durability and resistance to heat, scratching and moisture, even when in contact with cookware. However, although the tiles resist stains, the grout between them can stain. The design of the tile, with the grout creases, can also make cleaning a challenge sometimes. Tiles can also crack, for example, if a heavy dish is dropped on them.
Butcher block countertops
A butcher block countertop is made of wood and can come in a variety of colors and stains. It can also offer greater affordability than other options. However, the wood can be scratched or warped by water due to regular wear and tear in the kitchen.
Laminate countertops
Laminate countertops — one of the most popular options being formica — can be an excellent choice if you're on a budget, as they cost less than most other options. The quality of laminate has improved in recent years, and these countertops can imitate a variety of natural countertop options. However, laminate countertops tend to show seams and don't have the heat- and scratch-resistance of other options.
Kitchen plumbing, gas and more explained
As you remodel your kitchen, you should pay attention to the built-in systems found throughout the space. These include:
The plumbing system. The plumbing system supplies water to your faucet and appliances like your dishwasher. Your plumbing system has a hot water line and a cold water line, where you adjust your handle at the faucet and determine how you want the two lines to mix to get your desired temperature.
The electrical system. You'll also depend heavily on your electrical system, as the electrical lines will connect your lights but also major appliances like the refrigerator.
The gas line. You may have a gas line that connects to your stove to supply it with power.
Fortunately, Cinch Home Services can help you protect your built-in systems, including your electrical and plumbing systems. If something unexpectedly breaks down, our home warranties can help minimize out-of-pocket costs. You'll have peace of mind that you can use your remodeled kitchen for years to come.
Choosing kitchen appliances
As your kitchen remodel comes together, you'll want to begin to select your appliances. Many people prefer their appliances and gadgets to come in the same style, such as stainless steel. While this isn't a requirement, it can help tie the room together.
When picking your appliances, think about what you'll use every day. Some appliances to consider include:
Refrigerator
Freestanding ice maker
Microwave
Range
Dishwasher
Cooktop
As you select the appliances that work best for you, you may want to consider an Home Protection Plan from Cinch. Our home warranty can help cover the repair or replacement of critical kitchen appliances, such as your refrigerator or cooktop. You'll know that if something goes wrong, you have the coverage you need to make the breakdown more manageable.
Protect your kitchen and appliances from costly repairs with Cinch
Besides picking countertops, cabinets and other kitchen features, it's important to keep in mind the built-in systems and appliances you'll need. Thankfully, Cinch makes it easy to protect these critical components. With three home warranty plans to choose from — including an Appliances Plan, Built-in Systems Plans and a Complete Home Plan — you can keep your kitchen running and worry less about unexpected breakdowns.
Once you've finished your kitchen renovation, protect your hard work and the utility of your home with a home warranty from Cinch. Explore our different warranty options and get a free quote today.