Home appliance plan: What you need to know

Home appliance plan is a service agreement that provides coverage for repairs and replacements on major appliances due to normal wear and tear. The idea is to provide peace of mind for homeowners so that they don't need to worry if the sudden expense of a broken refrigerator or flooded washing machine will derail their finances.
These plans may be paid annually or monthly and purchased by current or new homeowners, home sellers or real estate agents. (Sellers and real estate agents may use the plans as incentives to prospective buyers.)
If you want to learn more about home appliance warranty, keep reading. This article covers everything you need to know about these plans and how to find one that's right for you.
Is a home appliance plan the same as a home warranty plan?
Home appliance plan is a type of home warranty plan. Home warranty plans may cover major appliances like clothes washers and dryers, built-in systems like water heaters and HVAC or both. The term "home appliance plan" may be used interchangeably with "home appliance warranty plan." Both phrases refer to the same type of coverage.
Home appliance plan vs. manufacturer's warranty
When you purchase a new appliance, it often comes with a manufacturer's warranty, which covers replacement and repair due to factory defects for a limited period after purchase. These warranties may range in length from months to years, and extended warranty options may be available on a limited basis for an additional fee.
In contrast, a home appliance plan covers replacement and repair due to normal wear and tear, regardless of whether the appliance is relatively new and whether the breakdown was due to mechanical issues. Home appliance coverage is usually purchased in one-year increments and can be continually renewed instead of having an expiration date like a manufacturer's warranty.
Not only can home appliance plan be purchased at any point in the life of your appliances, but it can also cover appliances transferred from one owner to another — which manufacturers' warranties usually prohibit.
Home appliance plan vs. homeowners insurance
If you own a home, you're required to have homeowners insurance coverage. This insurance covers damage to your home's structure or contents due to unforeseen catastrophes like flooding or fire. If you suffer a roof leak due to a rainstorm, homeowners insurance will likely cover it. However, if your dryer blows out a gasket due to normal wear tear, homeowners insurance leaves you on your own.
This is where a home appliance plan becomes a good investment. It covers normal wear and tear on major appliances, whereas homeowners insurance doesn't. Hence, by having both types of insurance, your major appliances become completely covered. You never need to worry how much the repair will set you back if your oven suddenly stops working. Simply put in a service call and pay your chosen plan's deductible.
How home appliance plans work
Suppose it's the night before you're to host your boss and her family for dinner. You have T-bone steaks thawing in the fridge and mint-chip ice cream in the freezer for dessert. You decided to check on your ice cream and notice the fridge has died.
You must act fast, or the ice cream will melt and the steak will expire, so you quickly try to determine what to do. You need to call a repair person, but how can you tell which ones are good? Do you know any friends with recommendations? Is there time for that? And most of all, what will the service fees and parts end up costing? Will this cost hundreds of dollars?
If you had a home appliance plan, you'd know right away what to do. Any time, day or night, you can go online and make a service request or make your request by phone. If you had a plan through Cinch Home Services, for example, you could rest assured one of our 18,000 vetted and licensed contractors are in your area, ready to help. And best of all, you already know what your out-of-pocket deductible will be.
Obtaining home appliance coverage is easy. You simply choose a provider and plan that meets your needs and pay an annual or monthly fee. As long as your contract is up to date, it'll spare you that sinking feeling the next time the dryer stops drying or the refrigerator stops freezing.
Benefits of home appliance plan
There are many reasons to purchase a home appliance plan. If you just bought a new home, for example, and you don't know the history of the appliances within it, coverage might be a good idea. Adding coverage can also help people sell their homes.
Even existing homeowners can benefit. If you have an older home and your appliances are getting on in years, adding coverage now can save you when things start to break down.
Some additional benefits of a home appliance plan include the following:
Combines with home insurance for complete coverage: Home insurance policies cover damage caused by accidents or forces of nature, while a home appliance plan covers any damage due to normal wear and tear. Combined, your major appliances are completely covered.
No more worrying about unexpected expenses: If you're like most people, you budget carefully for your expenses. A sudden $500 to fix the washing machine or $700 to replace the stove can turn your finances upside down. With home appliance coverage, you pay your deductible to cover these repairs and replacements.
Service technicians who you can trust: Home warranty companies have a network of vetted service technicians. So, no matter where you live or where you move, you don't need to find a qualified service provider in your area to fix your refrigerator. You simply request a service call online and have it repaired quickly.
You can learn more about home appliance coverage and other types of home warranties on Cinch Home Service's home warranty page.
What's covered by a home appliance plan?
What items or major appliances that your home appliances plan covers depends on your specific plan and add-ons. Commonly covered appliances include the following:
Clothes Dryers
Clothes Washers
Cooktops
Dishwashers (Built-in)
Food Centers (Built-in)
Freestanding Ice Makers
Microwaves (Built-in)
Ranges
Range Exhaust Hoods
Refrigerators
Trash Compactors (Built-in)
Wall Ovens
You can obtain additional coverage of home systems, such as air conditioning, garage door openers, septic systems, ductwork, plumbing, smoke detectors and more, by purchasing a home warranty plan with built-in systems coverage.
These plans cover mechanical breakdown resulting from routine use or normal wear and tear. Covered items include mechanical parts, such as motors and switches, and parts like knobs and handles. Both parts and labor are covered for repairs and replacements up to a limit specified by the plan.
Home warranty exclusions and limitations
Home appliance or home warranty plans don't typically cover certain types of items and failures. Exclusions and limitations may include:
Non-mechanical items in your home, like the roof, windows, walls and doors
Improper installation or repair
Routine maintenance
Items covered by other insurance, warranties or guarantees
Commercial-grade items
Improper use or abuse
Damage due to mold or mildew
Be sure to check your home warranty contract thoroughly to understand what is and isn't covered.
How much does a home appliance plan cost?
Home appliance plan or home warranty prices vary and depend on the plan options and coverage you choose. Cinch plans for major appliance coverage start at $27.99 per month. The built-in systems plan starts at $32.99 per month, and the complete home combo plan starts at $39.99 per month. However, base price can vary by region, and state and local sales taxes may apply.
You can get a better idea of how affordable home appliance coverage can be by getting a free quote. Start by entering your ZIP code and then select your desired plan and deductible. Choose additional coverage options as needed and receive an immediate estimate, all in as little as 10 seconds.
Home appliance plans not only provide peace of mind but can also save you money. Compare what you'd have to pay out of pocket if a major appliance in your home needed unexpected repairs to the annual cost of a home appliance plan, and you'll quickly realize the investment is worth it.
Potential savings with a home warranty plan
According to HomeAdvisor, appliance repairs range anywhere from $50 to $350, on average, and replacement costs average $2,175 per appliance. Most appliances also have a life span of 10 to 15 years.
Now, suppose you have about a dozen home appliances covered by a home warranty plan. You can reasonably expect to repair or replace at least one of them each year. Doing the math, it quickly becomes obvious there's a lot of potential savings to be had.
7 tips to find the best home appliance warranty
The best home warranty provider is one that best suits your personal warranty needs. It helps to know what to keep an eye out for as you look at different plans and plan options. To that end, the following list provides you with seven tips for finding the right plan: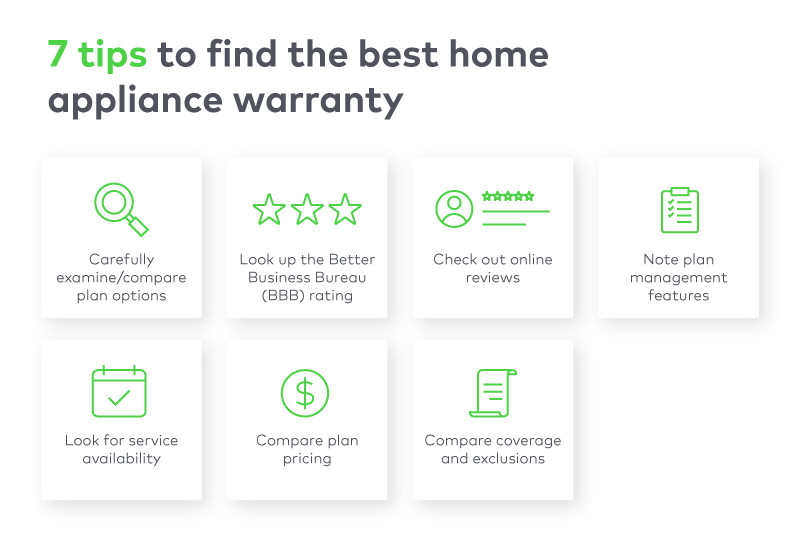 Carefully examine/compare plan options: Thoroughly examine the different home appliance warranties you're considering. If you have particular coverage you're seeking, such as coverage for your trash compactor, you want to make sure that is an option.
Look up the Better Business Bureau (BBB) rating: For more than a century, the BBB has operated with the goal of advancing marketplace trust. To that end, they offer detailed ratings of businesses.
Check out online reviews: Online reviews give a great picture of what other people's experiences have been with a warranty provider. Read both the high and low reviews and try to find reviews from multiple different websites for the best possible picture.
Note plan management features: Ideally, it should be easy for you to manage your plan, make payments or adjust coverage. See if each plan provider has an online portal, for example.
Look for service availability: Broken washing machines and faulty cooktops don't care what time it is. An ideal plan should have 24/7 availability. Look into service contract agreements, as well. You don't want a provider who makes you wait days on a home repair.
Compare plan pricing: Compare prices between different providers and different plan options. However, remember that you must also weigh pricing against features and coverage. Saving $5 per month on coverage may not be worth it if your deductible is three times as high.
Compare coverage and exclusions: Besides looking over plan options, make careful note of what the plan covers and what it excludes. You don't want to pay an annual premium only to not end up with what you thought you paid for when your refrigerator fails.
Affordable home appliance protection from Cinch
Cinch offers various home protection plans, including one for major appliances only, one for built-in systems and one for both. All plans come with a 180-day workmanship guarantee, protection for unknown pre-existing conditions, rust and corrosion coverage and discounts on new appliances.
When something breaks down, you can open a service request online through your Cinch My Account or call customer service at (844) 324-5688. Through My Account, you can access your plan at any time from a computer or mobile device and download plan documents, open or check your service request status, change your payment method and update your information.
Discover the leading home appliance plan options available from Cinch today. Learn more on Cinch's protection plans page and/or get a free quote in just seconds.