Introduction to home warranties: What you need to know

Why is it that an appliance or home system always breaks down at the most inconvenient moment? It could be a fridge that goes on the fritz while stocked full of food, a furnace that quits in the middle of winter or an air conditioning (A/C) system that sputters out on the hottest day of the summer.
As a homeowner, you have enough on your plate without trying to figure out how to repair or replace malfunctioning home appliances and systems — especially if they aren't covered by manufacturers' warranties.

This is where a home warranty comes in, providing peace of mind and protection for your major appliances and built-in systems. In this guide, we'll discuss everything you need to know about home warranty plans and how to find the best option for you.
What is a home warranty?
A home warranty is a service contract between a home warranty company and a homeowner that offers repair and replacement service for discounted fees for various major appliances — such as washers, dryers and stoves — and major systems, including HVAC systems, plumbing and electrical systems.
Most often, home warranties come into demand when buying or selling homes — in large part due to the additional peace of mind that it offers both buyers and sellers. A seller might offer one as an incentive for buyers or to protect the seller from repercussions if a major appliance or system fails soon after purchase. A homebuyer might want one after making such a large purchase, so they don't have to worry about the extra costs and headaches associated with appliance and system malfunctions.
Homeowners insurance vs. home warranty
It's important to note that a home warranty is different from a homeowners insurance policy. Insurance is often a legal necessity when buying a home, covering threats like certain types of water damage, fire, hail, storms, property crimes (such as theft) and other things that can affect the home's structure (interior or exterior) or homeowner's possessions.
Sometimes, homeowners insurance covers general liability if someone gets hurt on your property. Usually, homeowners insurance policies come with deductibles, which you must take care of yourself before receiving payment.
While homeowners insurance covers damage usually from natural disasters, a home warranty covers the repair and replacement of major appliances and systems that malfunction because of mechanical failure — the normal wear and tear of parts. Homeowners insurance normally doesn't cover these costs, which is why you should consider a home warranty. The incentive is that a home warranty can save hundreds or thousands of dollars through appliance repair or replacement.
A home warranty is also different from a manufacturer's warranty, which — as the name suggests — comes from the maker of a home appliance or system. A manufacturer's warranty, even an extended one, has an expiration date that might be close or past, depending on the age of the item. It may not even cover all parts and labor.

A good home warranty can jump into the void and provide protection. With a home warranty, you can cover most or all of your desired appliances and systems under a single umbrella rather than dealing with item-by-item coverage.
How do home warranties work?
Home warranty protection plans help cover the expenses of repairing or replacing major home appliances and systems that break down due to regular wear and tear. The protection covers items mentioned explicitly in the contract between the home warranty company and homeowner. Additionally, most plans offer multiple deductible options, so you can choose to pay more per month and have a lower deductible or pay less per month and have a higher deductible.
Suppose you have a washing machine that stops working and an appliance or complete home contract covers it. When you place a service request, you will specify the problem with the washing machine and pick an appointment time. The home warranty company will collect a service call fee upfront. The home warranty will collect a service call fee upfront, which may be applied toward the cost of the covered repair or replacement. Usually, service is available 24/7, including holidays and weekends.

Then, the home warranty company would send the correct service professional, who would make the required repairs, offer a replacement model with similar features if they couldn't repair the washing machine or give you money to purchase a unit of your choice (up to a maximum amount specified in the contract). You would be responsible for paying for any home repairs not covered in the warranty.
What does a home warranty cover?
In most cases, home warranty plans cover the majority of, if not all, the major appliances and systems you use in your home. While the terms and conditions — including the dollar value of coverage — vary from provider to provider, protection plans generally break down into these coverage options: major appliances, systems and a combination of the two (some plans also allow optional coverage and add-ons).
Under major appliances, a home warranty might cover:
Clothes Dryers
Clothes Washers
Cooktops
Dishwashers
Food Centers (Built-in)
Freestanding Ice Makers
Microwaves (Built-in)
Ranges
Range Exhaust Hoods
Refrigerators
Trash Compactors (Built-in)
Wall Ovens
Under systems, covered items might include:
Air Conditioning Including Ductwork
Attic Fans
Ceiling Fans
Central Vacuums
Doorbells
Electrical System
Garage Door Openers
Garbage Disposals
Heating System Including Ductwork
Instant Hot/Cold Water Dispenser
Plumbing System
Smoke Detectors
Sump Pump
Toilets
Water Heater
Whirlpool/Jetted Tubs (Built-in)
Coverage, terms and conditions vary from provider to provider, so it's always important to check the details of protection plans to discover any limitations. For example, some home warranty providers disallow payments if damage to a major appliance or system comes from improper installation or maintenance, the homeowner uses the appliance for something unintended or there are cosmetic issues or pre-existing conditions.
Homeowners should shop for the plan that best suits their needs. As one of the best home warranty companies, Cinch Home Services not only offers a 180-day workmanship guarantee but also has protection for "unknown pre-existing conditions" and even damage from rust and corrosion.
Is a home warranty worth it?
Homeowners often buy home warranties because they are a cost-effective way to ensure essential appliances and built-in systems stay up and running. This kind of peace of mind is important when the costs to replace a malfunctioning item can run into the hundreds or thousands of dollars.
For example, a new dishwasher typically costs anywhere from $810 to $1,440 to replace and up to $150 to remove the old one, depending on your countertops, wiring and plumbing. New refrigerators can range in price from $800 to $12,000 or more.

If your budget is tight and you don't have DIY skills for repairs and installation, signing a home warranty contract makes a lot of sense, providing protection for one low yearly price or a series of monthly payments. A small upfront investment can save you from enormous financial consequences later if appliances or home systems fail.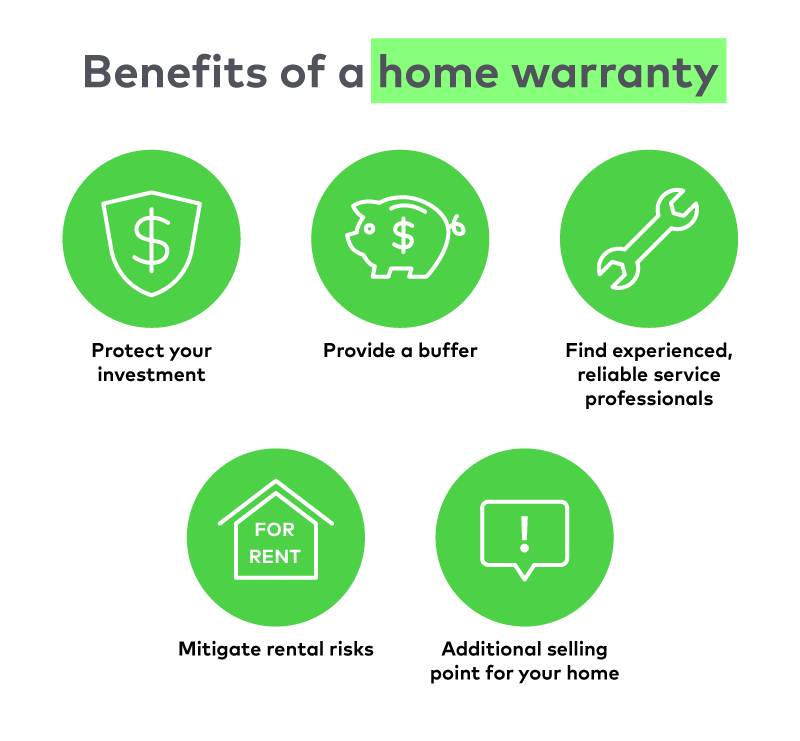 Benefits of a home warranty
Other benefits of home warranties include:
Protect your investment: For many people, a home represents the largest investment they'll make in their lives. It makes sense to protect it with a wallet-easy home protection plan.
Provide a buffer: If you don't have an emergency fund or want to save your money for other things, a home warranty is an easy way to get protection and peace of mind. Cash might be in short supply after the costs of buying a new home.
Find experienced, reliable service professionals: Without a home warranty, you must find service professionals to repair or assess each broken appliance or system. A good home warranty provider will dispatch a vetted professional to do the work you require.
Mitigate rental risks: If you own a rental property or rental properties, a home warranty might be a good investment to help mitigate costs from any normal wear and tear caused by tenants.
Additional selling point for your home: For home sellers, offering a prepaid one-year home warranty can serve as a selling point for potential buyers and protect them from any issues with major appliances or home systems discovered after the sale.
Cinch makes home ownership easy
With protection plans starting as low as $27.99 a month, Cinch makes it easy and affordable for homeowners to get warranties for essential appliances and built-in systems.
Our plans include a digital dashboard from which you can schedule service requests 24/7, coverage for a wide range of components and parts, a free water sensor to protect your home from leaks and a $25 credit to use for filters for your A/C system or refrigerator.

To get the home protection you need today, ask for a free quote online, and in as little as 10 seconds, you'll know what coverage is available in your area.
Home warranty FAQ
Who should buy a home warranty?
Many different types of homeowners can benefit from a home warranty. For instance, people buying a home with used kitchen appliances flagged by home inspection reports as having a limited life should buy a home warranty.

A home warranty is also a good idea if you have limited funds for emergencies involving the failure of household appliances and systems or limited skills to do repairs or installations yourself. Additionally, it can appeal to homeowners who want the peace of mind and convenience of a wide variety of repair or replacement costs covered by a single plan.
How do I know which home warranty company is right for me?
There are many home warranty companies available. Some things you'll want to consider when deciding on a company include what optional coverage options they offer depending on your needs, how many years of experience they offer and whether they have Better Business Bureau (BBB) accreditation.
When does home warranty coverage start?
Typically, there isn't a long wait period for coverage to start. When you buy your Cinch home protection plan, we'll provide you with your exact waiting period before coverage begins. Your confirmation email and plan documents will also have this information.
How long does home warranty coverage last?
Cinch annual home warranty plans are available for a one-time cost or as a series of low monthly payments, which vary according to where you live. By choosing a higher deductible, you can lower your plan costs. With our 180-day workmanship guarantee, you only pay the deductible once if the initial covered repair doesn't work.
What types of failures are covered?
For the most part, our home protection plans cover mechanical breakdowns from routine use, often called "normal wear and tear." This means a Cinch warranty covers mechanical components, such as switches and motors, and parts, including knobs and handles. To understand what's covered, read your home service agreement's terms and conditions.
What types of failures are not covered?
The home warranty doesn't usually include non-mechanical items in the home, such as windows, walls, doors and the roof. It likely won't cover appliances improperly installed or repaired. Unlike many other plans, Cinch's home warranties usually cover "unknown pre-existing conditions." To fully understand what isn't covered, read the details of the "General Exclusions and Limitations" section of your plan's terms and conditions.
How do I get help when something breaks down?
Once you have a Cinch home protection plan, you can log into your account, describe your problems and set up an appointment so that we can dispatch the appropriate service technician. You can also call for 24/7 customer service at (844) 324-5688. You can make as many service calls as necessary for items covered in the plan unless you have reached a maximum cap for service, as outlined in your plan.