Do home warranties cover A/C systems?

Your home's air conditioning system provides comfort so you can go about your life even in the heat of summer. When your air conditioner breaks down, it can be uncomfortable and disruptive.
A home warranty can be an added protection plan for when your air conditioner breaks down as a result of normal wear and tear. A home warranty plan can help to offset the cost of repairing or replacing your A/C system when it is experiencing trouble.
Most home warranty plans cover your air conditioning and heating system. An A/C system can be a split or package system including a wall or window unit. In either case, they are integral to the functioning of your home and for maintaining the right in-home temperature.
To give you a better understanding of how home warranty coverage works for your A/C system, this article will break down:
What a home warranty covers on an A/C system
When an A/C system is not covered under a home warranty
Reasons to have a home warranty for an A/C system
And how to determine what your home warranty package will cover for your A/C system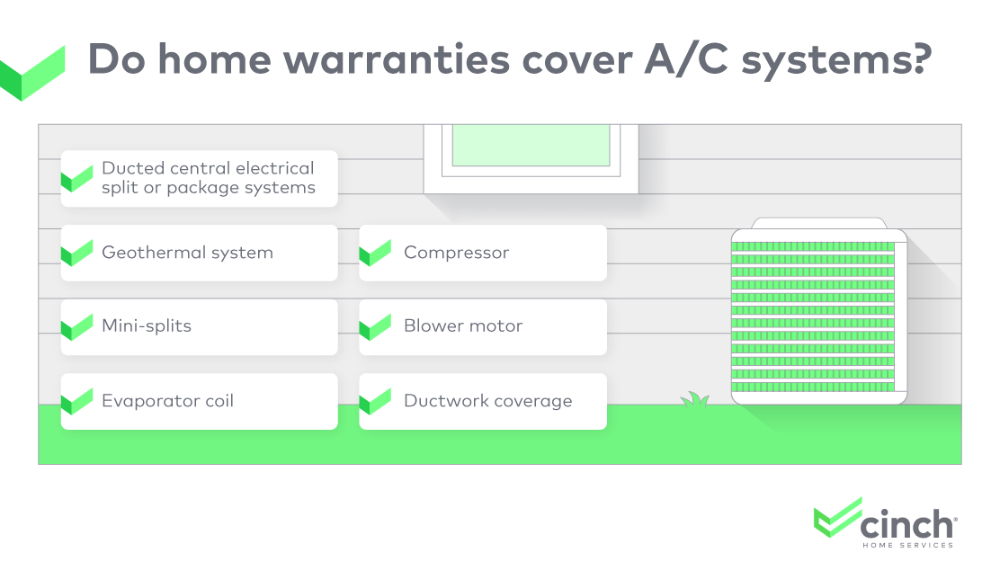 What does a home warranty cover on an A/C system?
A home warranty provides coverage for the breakdown of air conditioning system parts and components if they break down due to normal wear and tear.
A home warranty will usually include all the components of a covered A/C system, including
Ducted central electrical split or package systems
Geothermal system
Mini-splits
Evaporator coil
Compressor
Blower motor
Ductwork coverage (including leaks or breaks in the ductwork, plenums, dampers and damper-only controls)
No matter what your home warranty coverage stipulates, your items may be deemed ineligible if they are not properly maintained. This means that it is important to regularly assess whether your A/C system is running at full efficiency.
A home warranty also provides protection for other components within a home, but this will depend on the type of coverage and the home warranty company used.
In general, a home warranty will repair or replace a covered item if normal wear and tear is the cause of the malfunction. The items a standard home warranty will cover include:
Most major home systems, such as your home's electrical system, plumbing, water heater, HVAC (heating, ventilation and air conditioning) system
Most major appliances, like the dishwasher, water heater, washer and dryer
Additional items, which can range from ceiling fans to garbage disposals and pools
When an air conditioning system is not covered under home warranty
When considering home warranty coverage for air conditioners, it is important to determine the root cause of the problem as that will determine where financial coverage might apply.
For example, if you purchased a new A/C system and it had faulty wiring, then you would reach out to the manufacturer or HVAC company that you are working with to seek manufacturer's warranty coverage. If the A/C system failed before the home warranty coverage went into effect, it would be deemed to be defective and not eligible for coverage under a home warranty company.
This also applies to accidental or environmental damages to your HVAC system or air conditioner. If your air conditioning system electrical connection is fried because of a power grid surge, then your homeowners insurance would be able to determine whether coverage can be applied or not.
Since there are several different types of air conditioning systems, note that not all types can be covered under a home warranty. For example, stand-alone air conditioner units are not usually covered under your standard home warranty plan. A home warranty company might not be able to cover an older HVAC system or an A/C system that is not up to code as the parts are no longer manufactured.
There are some components of an air conditioning system that are exempt under home warranty coverage. A home warranty company will not be able to cover when the HVAC system needs to be updated to the code if it has rust or if it is not properly maintained.
Reasons to have home warranty coverage for an air conditioning system
While a home warranty provides optional coverage, there are a number of reasons why a home warranty can protect you and your family from expensive HVAC repair. With a home warranty that includes air conditioner warranty coverage, you can rely on the service contract with your warranty provider for fast and reliable service.
As a homeowner, it is nearly impossible to be prepared for all the accidents, repairs and maintenance that a home goes through. With a home warranty, you worry less about fronting the financial cost.
Here are some of the benefits of having home warranty coverage for your A/C system:
Affordable: Often the cost to repair or replace a home system or appliance can be too expensive; a home warranty plan can help to offset this cost with an affordable yearly plan and nominal service fee at the time of service.
Qualified service: Your home warranty company is connected to qualified service technicians in your area, which you can use even if your warranty coverage does not apply.
Knowledgeable company: Your home warranty company will be familiar with the ins and outs of many popular brand-name appliances and home systems. They can clue you into when a repair is needed or identify a potential issue.
Having both homeowners insurance and a home warranty in place will protect your home systems and appliances from costly repairs.
After all, a new A/C system can benefit from a home warranty because the manufacturer's warranty does not always apply. The manufacturer's warranty will usually only cover the A/C system for one year and it will be held liable for the installation or for defects of the system.
The same applies to homeowners insurance. Our home appliances and systems will inevitably break down due to normal wear and tear. While this is a part of our everyday lives, these repairs can be expensive, and you might not always get reliable service from a specialty HVAC company or the manufacturer.
Think of a home warranty as an extended warranty for a manufacturer's warranty or homeowners insurance, and for when you cannot afford costly repairs to your HVAC system.
How to determine what your home warranty package will cover for your A/C system
Each home warranty plan will vary from company to company. However, a service contract is required in order for your home warranty agreement to be valid. Therefore, the home warranty company must provide you with a service contract and the terms and conditions of your warranty plan.
To determine what your home warranty package will cover, you should first view your terms and conditions. You should have a hard copy on file, but this might also be emailed to you or provided to you on a dashboard associated with that company.
If you cannot find the terms and conditions, then be sure to reach out to your home warranty company to obtain one. You should feel comfortable asking your home warranty provider about your warranty coverage.
If you have questions about your service contract, then a knowledgeable home warranty company, like Cinch Home Services, will gladly provide you with the necessary information that you need.
Cinch Home Services provides flexible home warranty coverage suited to every budget. Contact Cinch today and secure your home with the best home protection plan for you and your family.