A homeowner's guide to bathrooms

The bathroom is one of the most used rooms in your home, so you want it to be welcoming, clean and sanitary.
To keep your bathroom in top shape, it's important to understand how everything works and how to stay on top of the maintenance. This article will walk you through the most important elements of a bathroom and what kind of maintenance you can expect.
The elements of a typical bathroom
It doesn't matter if you are undertaking a master bathroom remodel or giving a guest bathroom a makeover. From full baths to powder rooms, a standard bathroom will have an electrical system, lighting system and plumbing system. Within each system are various elements that will need to work together to make your bathroom function the way it should — and bring your bathroom design together to create the atmosphere you want.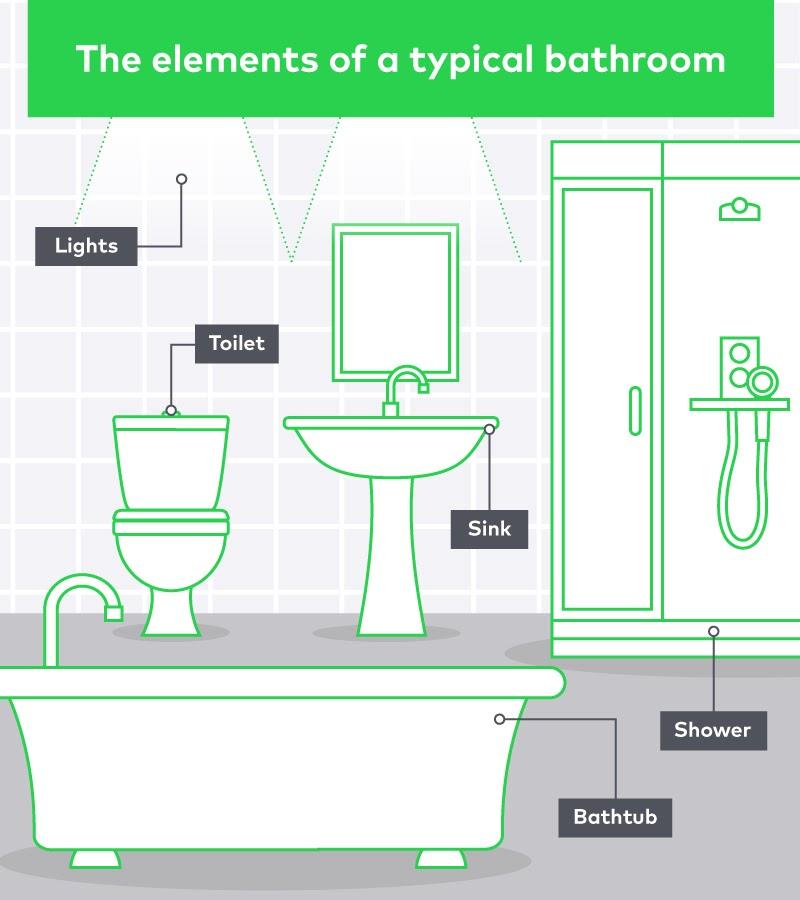 Bathroom electrical systems explained
Whatever your design ideas are for the bathroom, it's important to remember that the bathroom has some special needs in terms of the electrical supply. Bathrooms tend to be damper places. They also sometimes need additional power depending on the features and lighting you install.
GFCI electrical outlets
One of the first things to understand is ground-fault circuit interrupters (GFCIs). You have probably seen and used them even if you didn't know the term. The outlets come with red or white buttons that pop out when the circuit is interrupted and can be pushed back in when they are safe to use again.
The purpose of a GFCI outlet is to protect users against electrical shock. For example, if you accidentally dropped a hair dryer into a sink of water, the GFCI would feel the change and cut off the power. GFCIs are one important way to keep your family safe. So important, in fact, that the National Electric Code requires a minimum of one GFCI outlet per bathroom.
In-floor heating
Bathroom floors can be chilly places to walk. In-floor heating is a nice luxury you can install to keep your feet warm no matter the temperature outside. It also has the benefit of slowly introducing heat to a room unlike the quick flow of heat from a heating vent — which allows for the heat to flow up more slowly and keep your room warmer. In-floor heating works best with floor tiles (e.g., marble tile, mosaic tile, carrara marble or subway tile) rather than carpet.
There are two main types of in-floor heating used in homes. The first is water-based. That means that a network of tubing under the flooring carries hot water along and heats your flooring up. The second version is radiant heating, which uses wiring under the floor that you can heat up with a dial or wall control.
Towel warming racks
If the idea of having a warm towel as you step out of the shower is appealing, you may want to consider installing a towel warming rack. There is a wide variety of options, from free-standing to wall- or floor-mounted. Either option works the same way as in-floor heating: with water or electric.
The benefits of having a heated towel rack extend beyond the warm towel, though. If you put one in a small bathroom, it can help keep the bathroom warm. They also help keep a consistent temperature and moisture level in your bathroom, which cuts back on the development of mold. They can also add to the interior design of the bathroom.
Bathroom lighting
When it comes to lighting up your bathroom, there are a lot of options. When you make decisions about which light fixtures to use, it's helpful to remember that you want spaces like the shower or bathroom mirror to be well lit and you'll likely want to add lighting that improves the feel and mood of the room.
Recessed lighting is a great way to put a lot of light in showers, tubs or toilets but should be avoided over bathroom mirrors as they can create shadows that may make makeup application or shaving more difficult. Vertical lighting or sconces are best for mirrors. If the mirror is too large for that type of lighting, however, you may want to consider lights that mount directly over the mirror.
Bathrooms tend to lack natural light, so additional lighting is always helpful. This includes adding a chandelier, pendant lights, rope lighting and more.
The lights you use in your bathroom are usually separate from your GFCI outlets, so you can use a generic light switch to turn them on and off. Upgrading your switch, however, can make all the difference in your bathroom. Dimmer switches give control over how much light there is in the room. You may also consider switches that include a night light or motion sensor for when someone is up at night.
How bathroom plumbing works
Understanding how the plumbing in your bathroom works is useful for everything from minor fixes to complete remodels. To understand it, you need to know how the hot water heater and toilet work.
The water heater plays an important role in several areas of your house. Arguably, your ability to take a hot shower or bath is at the top of the list. A water heater heats up the water and then distributes it as needed throughout your home. In the bathroom, this means to the sink and the shower and/or bathtub. There are five common types of water heaters:
Conventional storage tank. This option involves storing water in a tank; the size of your tank will determine how much hot water you have. Once it heats up, the insulated tank keeps the water warm. A storage tank has two valves — one to control temperature and one to control the water pressure. This type of heater is typically affordable and easy to install.
Tankless heater. The super-heated coils in this type of water heater mean you can heat the water as you need it rather than having to store it and maintain the temperature. While a tankless heater can work for any family, you will want to pick the right size for your household or it won't be able to keep up. The purchase of a tankless water heater will be more expensive. It may also require more gas or electric power than your home has the capacity for, in which case you'll want to consider the costs of increasing that capacity.
Heat pump. A heat pump removes heat from the air and the ground to heat up the water. This method saves electricity. It is also rather large and can require a large space to put it in. Heat pumps also don't work as well in cold spaces or climates.
Solar-powered. This type of heater pulls energy from roof panels into a heat-conductive loop system to heat the tank. Depending on how many sunny days your region typically sees, you may still need a backup system to ensure that water is hot when needed. Solar-powered systems are also fairly expensive, with active and passive versions costing around $3,300 to install, on average.
Condensing water heater. If you heat your home with natural gas, this option will save energy. It takes the fumes from the gas you've already burned and funnels it into your water heater to warm up the water. You'll want to make sure you buy a tank large enough for your household needs.
Toilets basically work in the same way, with the main difference being where the water goes when it leaves. The toilet bowl holds the water, the bottom of the bowl has a drain that takes the contents away and the tank (or the top part of the toilet) keeps water to refill the bowl and all the mechanical parts to flush and fill the bowl. The main mechanical parts are:
Flapper valve. This controls the flush. When you flush your toilet, a lever moves to lift the flapper off the flush valve and allows water to move into the bowl.
Ballcock. When a flush happens, it causes the water level in the tank to drop. A pressure gauge then tells the ballcock to refill the tank from the water line.
When water leaves your toilet, it either goes to the sewer system or into your home's septic system. If you have a septic tank, the water and its contents will flow from the toilet into the septic tank or underground field. You'll want to make sure you understand the signs of trouble with your system.
When something goes wrong with your plumbing, inconveniences and costs can add up quickly. One way to avoid unexpected costs and additional headaches is by purchasing a home warranty, like the ones provided by Cinch Home Services. Our Built-in Systems plan includes the plumbing system.
Bathroom faucets/sinks
When you shop for a faucet, you'll see a few different types, such as bridge faucets, center set faucets, single-handle faucets and spread fit faucets. No matter the type, though, the faucet itself works pretty much the same. The faucet attaches to the counter. There is a seal inside the faucet that will open or close to control the water flow from the pipes. You'll find a hot water line and a cold water line under the countertop. The handles on the faucet will control the amount of each that mix together to flow out of the faucet.
Picking the right sink for your bathroom begins with determining your bathroom decor style. Then, you'll want to choose the right mount and materials. Make sure you measure the area and consider the kind of use it will see. Some come with more storage options and different types of cabinetry. Many people also like to have a double vanity — especially in an en suite bathroom.
Showers and bathtubs
Showers and bathtubs get a lot of use in the bathroom and make a big impact on the ambiance, especially in a master bath. They are relatively simple elements, working much the same as your sink faucet but at a higher volume. There are endless options to take your bathroom beyond standard white walls, though. You can make your choice the focal point of the room with a freestanding tub, clawfoot or soaking tub or a unique showerhead in your shower. Even a small shower can be luxe and used to create an inspired bathroom.
Bathtubs tend to be less expensive than showers — costing between $400 and $8,000 to install versus $450 to $10,000 for a shower — but take up more room and use more water. If you have family or frequent visitors who need a more accessible option, a walk-in shower may be the way to go.
Bathroom maintenance tips
There is one thing that remains true regardless of whether you choose a minimalist or modern bathroom — or something else entirely. Keeping up with cleaning and maintenance in your bathroom will help prevent plumbing issues over the long term. Some basic maintenance to perform regularly includes:
Check to make sure your caulk and grout are intact and make a good seal around the bathtub, shower, sink backsplash and toilet. Check the caulk around the shower door more frequently because it sees more frequent damage from use. Recaulk once a year or when you see an issue.
Clean shower doors and shower curtains to avoid mold. If you see a white film or mold developing on a glass door, remove the door and scrub with a cleaner.
Check inside the toilet tank regularly to see if anything seems off. You should also run a rag around the toilet base from time to time to check for any leaks.
Sinks and bathroom floors benefit from a weekly cleaning.
Bathroom fans also require maintenance. You can clean out the filter and vacuum the intake panel. Doing this monthly will help your fan run better.
Below are some additional things to look out for to maintain a bathroom.
Fix leaky/dripping faucets
A leaking or dripping faucet can cause water damage and make your water bill climb. Keep a close eye out for leaks. Washing your hands or your face can cause a lot of splashing on its own, so leaks can be surprisingly difficult to spot. If you spot a leak or if your faucet doesn't turn off all the way, you need to get it repaired quickly.
Unclog drains
Clogged drains are another source of water damage and issues with your plumbing. Make sure to flush your drains out regularly so they run correctly. Sink drains in particular can be clogged with all sorts of things; it's best to pull out the sink drain stopper from time to time. Once it is out, clean it off, soak it in vinegar and run it through a dishwasher cycle.
Service your water heater
You can extend the life of your water heater and make it run more efficiently with a few annual maintenance steps. Be sure to check the pressure-relief valve and have it replaced if it's not working right. Draining the tank will flush out the sediments that build up over time.
Consider a home warranty
Your bathroom is one area in your home where costs and inconveniences can add up quickly when a problem arises. Investing in a home warranty will provide peace of mind for homeowners.
Keep your bathroom systems running smoothly with a home warranty from Cinch
Are you taking on a bathroom renovation, or are you a new homeowner? Cinch is here to help protect your bathroom and the rest of your home, too. As a leading home warranty company, we have your back with warranty plan options that will fit your home and budget. Our plans are easy to understand and come with guarantees instead of gotchas.
We want to help make it simple for you to get the right home warranty. Our experts are ready to help you find the plan you need at a price you can afford. Get a free quote today.