FORT LAUDERDALE, Fla. (March 13, 2018) – Cross Country Home Services (CCHS), a leader in home repair, maintenance and warranty services, was presented with the gold 2018 Stevie® Award for customer service in a recovery situation at the 12th annual Stevie® Awards for Sales & Customer Service in Las Vegas. The Stevie Awards are the world's premier business awards open to all organizations worldwide, and recognize the achievements of sales, customer service, and call center professionals.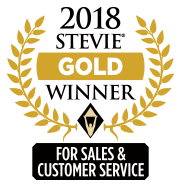 "Our team at Cross Country Home Services stands by our customers, and we are working hard to develop tools and solutions that empower homeowners and ultimately simplify homeownership," said Chris Askew, Chief Operating Officer at CCHS. "This industry recognition represents the steps we are taking in our organizational, digital, and cultural transformation as we look forward to providing an even better service experience to our customers across the country."
The award was a result of the company's "Cross Country Home Services Beats the Summer Heat & Delivers Customer Service Excellence in 2017" entry. Through an enhanced and extensive training program for its customer service representatives, and investment into strategic technology upgrades, CCHS experienced a strong summer season with an increase in service levels.
More than 2,500 nominations from organizations of all sizes, and in virtually every industry, were evaluated in this year's competition. Finalists were determined by the average scores of more than 150 professionals worldwide, in seven specialized judging committees.
To find out how CCHS is using technology to enhance the customer experience, check out our partnership with Buoy Labs or visit cinchhomeservices.com/amazon-alexa to discover Home Service Manager, the home warranty industry's first-ever Alexa Skill.
Details about the Stevie Awards for Sales & Customer Service and the list of Finalists in all categories are available at www.StevieAwards.com/Sales.
About Cross Country Home Services
Cross Country Home Services, Inc. (CCHS) is dedicated to making home repairs and maintenance easier and more affordable with its repair, maintenance and connected home offerings. Since 1978, the company has built a reputation for excellence, and today, is one of the nation's leading providers of these products and services. Offered direct-to-consumer or through select affinity groups, financial institutions, insurance, real estate and utility partners, CCHS products include some of the industry's best-known brands, including TotalProtect Home Warranty and HMS Home Warranty. Headquartered in Fort Lauderdale, Fla., CCHS is a member of the Cross Country Group, one of the largest privately-held providers of customer service programs in the United States.
About The Stevie Awards
Stevie Awards are conferred in seven programs: the Asia-Pacific Stevie Awards, the German Stevie Awards, The American Business Awards, The International Business Awards, the Stevie Awards for Great Employers, the Stevie Awards for Women in Business and the Stevie Awards for Sales & Customer Service. Stevie Awards competitions receive more than 10,000 entries each year from organizations in more than 60 nations. Honoring organizations of all types and sizes and the people behind them, the Stevies recognize outstanding performances in the workplace worldwide. Learn more about the Stevie Awards at http://www.StevieAwards.com.
Sponsors and supporters of the 12th annual Stevie Awards for Sales & Customer Service include HCL Financial Services, Sales Partnerships, Inc. and ValueSelling Associates, Inc.