Kelvia, QA Specialist and Client Services Liaison in Operations, never knew the true meaning of fighting for your life until her daughter Kelyssa was born at just 26 weeks old. Coming into the world at 1 lb, 4.5 oz, Kelyssa had to fight from day one.
Kelvia's pregnancy was nothing out of the ordinary. She had her baby's name picked out, was building her baby registry online, and was excited to grow her family. Her check-ups were going great until Kelvia was 24 weeks along and she started having high blood pressure and swelling in her feet. She knew something was wrong.
"I was having headaches and vomiting. I knew something wasn't right," said Kelvia. "I took a shower to see if it would make me feel better and ended up passing out."
After regaining consciousness Kelvia called Tamika, her best friend and roommate at the time, and told her what happened. Tamika took Kelvia straight to the hospital.
Kelvia was immediately admitted and started undergoing tests. She was diagnosed with HELLP Syndrome, a life-threatening pregnancy complication usually considered to be a variant of preeclampsia, and her organs were failing, and her baby had to be delivered right away.
"I couldn't believe it. Everything was going so well, and then it all changed," said Kelvia. "When the doctor said they had to deliver Kelyssa at 26 weeks, I wasn't sure what to think, but there was no other choice if I wanted us both to survive."
After Kelyssa was delivered, she spent four months under the expert care of the nurses and doctors at Broward Health's Neonatal Intensive Care Unit (NICU).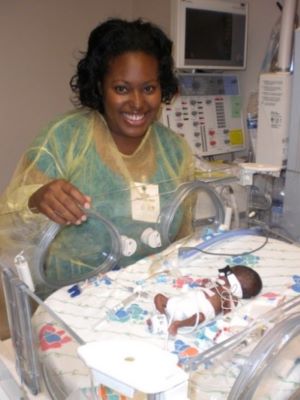 "If you have never had a premature child, it would be hard to relate to our situation," said Kelvia. "Leaving Kelyssa at the hospital was the hardest thing I ever had to do, but with the support of the NICU team and March of Dimes, I was able to get the counseling and support I needed to function as a mother of a premature baby."
Thanks to March of Dimes, Kelvia joined a support group that met at the hospital every week during shift change. Baby Kelyssa in the NICU Kelvia with Baby Kelyssa "I lived at the hospital. The only time I was away from Kelyssa was during shift changes," said Kelvia. "During support group meetings, we made scrapbooks and shared experiences with other preemie moms. They were all very friendly and encouraging, and I am so grateful for them."
Kelvia describes her experience as one she'll always remember and attributes her strong relationship with her daughter to those first few months. "Kelyssa will be 13 this June, and while she is your typical teenager, we have an amazing bond," said Kelvia.
This is Kelvia's third year walking in the March for Babies, and her first as captain for Team Cinch. She knows, first-hand, the benefits provided by March of Dimes and supports the organization to give all mothers and babies a fighting chance.
Are you ready to MARCH with us as we fight for the health of ALL moms and babies?
Join a team and start fundraising today!
Florida
Team Captain: Kelvia
May 7 @ 8:30 a.m.
Davie, FL
Join the team
Anderson
Team Captain: Charise
April 30 @ 9 a.m.
Anderson, SC
Join the team
Carrollton
Team Captain: Sam
May 7 @ 8:30 a.m.
Fort Worth, TX
Join the team